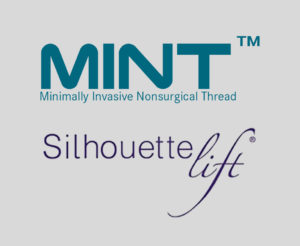 A thread lift is often described as a non-surgical face lift. Peraza Dermatology Group offers several thread lift options for patients who seek the effects of a face lift without the recovery time. In consultation with the PDG team, patients will identify the best thread lift solution to achieve the desired results. These innovative, minimally-invasive procedures are a simple way to re-contour your face, neck, or jowls and lift the deeper layers of your skin for a more youthful appearance. The threads are not visible and help to enhance the skin's appearance and tone.
Peraza Dermatolgoy Group is proud to offer MINT™ PDO threads and Silhouette Lift® sutures. MINT™ threads are made from a complex sugar polydioxanone or PDO – a safe suture material that has been used in orthopedic and cardiovascular surgeries for over 30 years. Not only that, MINT™ is also backed by more than 6 years of published studies for its safety and is the first and only PDO suture in the US market to have received dual FDA clearances.
Silhouette Lift® sutures are made of a non-absorbable 3-0 polypropylene strand. Each strand holds several absorbable hollow cones. Compared to the conventional barbed suture, the unique patent pending design of Silhouette Lift® mid face suture allows for tissue growth inside and around the flexible, absorbable, hollow cones, therefore creating a much stronger anchoring mechanism.
What is it?
A thread lift is a nonsurgical facial rejuvenation procedure that passes threads beneath the surface of the skin to lift the tissue. Depending on the procedure selected, some use absorbable sutures and others do not. The practitioner will position the threads to create a more lifted, toned appearance, especially around the lower face and jowls. Results are immediate with minimal recovery time.
How does it work?
The sutures are placed underneath the skin, along the cheeks, to help lift unwanted jowls and smooth wrinkles.
Where is it used?
Common areas for the procedure to be performed include the lower face area/jawline and mid-face/cheek area.
What should I expect after treatment?
To minimize swelling and pressure on treated areas, attempt to sleep face-up and elevated on pillows for 3 days following treatment.
Avoid rubbing the face aggressively when washing, shaving and drying for 5 days following treatment.
Avoid high impact sports (including running), strenuous exercise, or heavy lifting for 2 weeks following treatment.
Avoid saunas and dental procedures requiring you to open your mouth widely for 2 weeks following treatment.
Avoid facedown massages and skin treatments (such as radiofrequency) for 4 weeks following treatment.
To minimize swelling and discomfort, ice the treatment area several times per day for 2 days following treatment.
Try to eat softer foods to avoid excessive jaw movement for 3 days following treatment.
Tylenol and Ibuprofen can be taken, as needed, for relief of any post-procedure discomfort.