Peraza Dermatology Group is pleased to offer the Vivace Experience® as part of our suite of minimally-invasive, effective treatments to support patients who seek to reduce the signs of aging, including fine lines, wrinkles, and enlarged pores, as well as acne scars, and to improve the skin's texture and tone. This treatment is the newest generation of radiofrequency microneedling and approved by the FDA.

What is it?
The Vivace Microneedle RF® utilizes ultrafine needles to penetrate the top layer of skin and to deliver customized levels of radiofrequency (heat) energy to deeper layers of the skin. This approach helps to reduce downtime for patients, since the top layer of skin remains intact, and results are both immediate and improve over time due to the increase in collagen production in the skin.
How does it work?
The Vivace Microneedle RF® treatment helps to spur skin growth and collagen production. The integrated radiofrequency further boosts collagen production and helps to tighten skin. All treatments begin with a special numbing cream designed to minimize discomfort, and end with a specialized serum designed to reduce inflammation and amplify results.
Where is it used?
This treatment is FDA-approved to be used anywhere on the body, and works with all skin types, including people with tanned or darker skin.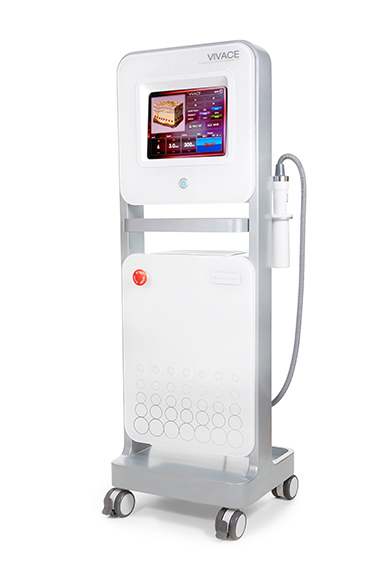 What should I expect after treatment?
Your skin will look and feel as if you have a sunburn for 24 hours following treatment.
Do not apply make-up, sunblock, or moisturizers to the skin for 24 hours after treatment.
Attempt to avoid clothing, headbands, hats or scarves in contact with the treated area.  If clothing needs to be worn over the treatment area, we recommend cotton clothing that hasn't been treated with fabric softeners or dryer sheets.
Bruising, pinpoint bleeding, minor scabbing, minor breakouts, swelling and redness may occur and should resolve within 10 days following treatment.
Avoid applying direct heat to the area, exercise, sauna, and hot tubs for 24 hours following treatment.
Do not use an electric or manual facial brush for 4 days following treatment.
Your normal skin care routine can resume 4 days following treatment.
Vivace Microneedle RF® Demonstration